How to Choose the best contractors for commercial Building?
Are you ready to make your dream house a reality? Building a house is an exciting process, but sometimes it may be hard to find the right contractors for commercial buildings. After all, those are the people who will be in charge of making your idea a reality. That is why it is important to choose the ideal team that can offer quality work while staying within budget and meeting deadlines. We will guide you through these steps in choosing the best construction companies for your dream home project. We will give you helpful ideas and insights to help you make an informed selection while completing thorough research and reviewing credentials to interview possible applicants.
Importance of Choosing the Right Contractors
Building your ideal house requires a considerable financial and emotional investment. That is why choosing the appropriate contractors for commercial buildings is important. The construction business you select will play a critical part in the success of your project, So it is important to examine various elements before making a decision.
Types of Contractors Required for a Home Construction Project
Before you start looking for contractors for commercial buildings, you should be careful of the types of professionals you may require for your home construction project. You may need the following contractors depending on the scale of your project:
Architects: Architects are the in-charge of designing your house and drawing up precise designs that realize your concept.
General contractors: General contractors function similarly to your construction company's project managers. They coordinate with subcontractors while directing the entire process.
Subcontractors: Subcontractors are construction-related professionals who specialize in particular trades like carpentry, electrical work, or plumbing.
Interior designers: Hiring an interior designer is a terrific option if you are to give your home a little flair and personality.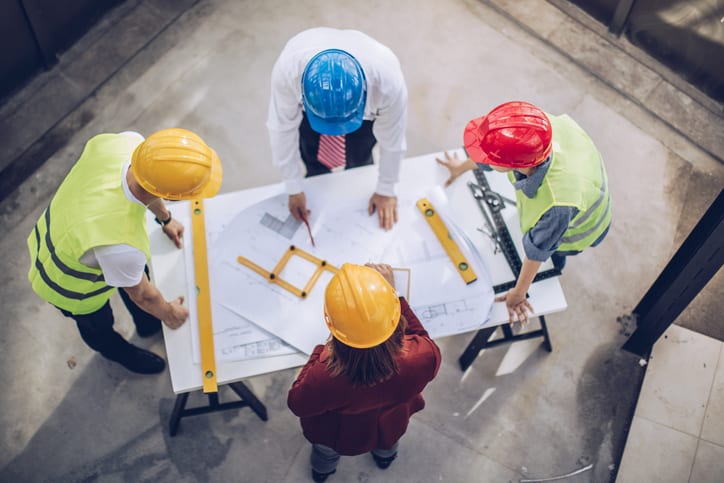 Investigating and Shortlisting Suitable Contractors
When it comes to finding Contractors for commercial buildings for your dream home project. Research is key. Start by asking for recommendations from friends, family, or neighbour who have recently completed a similar construction project. Their firsthand experiences can provide valuable insights and help you narrow down your options. Once you have a list of potential Contractors for commercial buildings, visit their websites and explore their portfolios. Look for examples of their previous work and assess whether their style aligns with your vision.
Checking the Qualifications and Contractors
During the interview, it's important to identify the contractors for commercial building credentials and check their references. This step will help you ensure that the Contractors for Commercial buildings you're considering are trustworthy and have a solid reputation in the industry. Look for certifications or memberships in professional organizations related to their expertise. 
Evaluating the Contractor Experience and Expertise of a Construction Company
Experience and expertise are crucial factors to consider when choosing contractors for commercial buildings  for your dream home project. When You want to work with professionals who have a deep understanding of the construction industry and have completed projects similar to yours.
Understanding Contractor Pricing and Payment Terms
Before making a final decision, it's critical to understand how Contractors for commercial buildings charge for their services and what payment terms they prefer. Pricing and payment terms must be transparent to avoid misunderstandings or surprises later on.
Remember that the lowest price does not always imply the best value. When considering Construction Company contractors' cost, consider their competence, reputation, and quality of work. It is good to invest money in contractors who can offer excellent outcomes and also provide a stress-free construction experience.
Negotiating with the Selected Construction Company Contractor
Once you've determined which Contractors for commercial buildings  best matches your requirements, it's important to formalize the arrangement by signing a contract. By precisely describing the scope of work, timeline, payment terms, and any other important information, a contract protects both you and the contractor.
Finalizing the Project with the Contractors
As the construction nears completion, it's important to finalize the project with your  contractors for commercial buildings. This involves conducting a thorough walkthrough to identify any remaining issues or areas that require attention.
Building your dream house is an exciting and gratifying experience, but it takes careful planning and the proper team of contractors for commercial buildings to make it a reality. You may make an informed selection and select the best team for your project by completing thorough research, checking credentials and references, interviewing possible contractors for commercial buildings, and analyzing their experience and competence.
FREQUENTLY ASKED QUESTION
Learn more potential of Lakshmi Nirman Pvt.Ltd
Which services does the contractor for commercial building provide?
Contractors for commercial buildings offers a wide range of services, including general contracting, remodelling, and construction for both residential and commercial properties.
How do I get a price estimate for my construction project?
It's easy! Simply phone us or fill out the contact form on our website. We'll get in touch with you right away to go through the specifics of your project and give you a tailored price.
Does the contractors for commercial buildings you run have a license and insurance?
Definitely! We have full operating authorization and insurance to conduct business in assuring that your project is managed expertly and with the utmost care.
What distinguishes your contractors firm from competitors in the field?
At Contractors for commercial buildings we take great pride in our dedication to fine craftsmanship, outstanding client relations, and on-time project completion. We separate from the competition because of our skilled team and meticulous attention to detail.
Can you handle building projects for both homes and businesses?
Yes, Contractors for Commercia building can handle both residential and commercial construction areas in which we have a great deal of experience. We can manage any project, regardless of its size.
How long does the typical construction project take from start to finish?
The size and complexity of the project determine the timeline. During the initial meeting, we will give you a thorough timeline so you have a comprehensive idea of the entire process.
Do you provide sustainable or eco-friendly construction options?
We are devoted to using sustainable building techniques, and we can talk about green choices to reduce our impact on the environment while still meeting your construction needs.
Can I view samples of your previous building projects?
Of course! Our website features a portfolio of finished projects that highlights the wide range of construction work and aesthetics we offer.
Will there be a specific point of contact for me during the construction process?
Definitely! We value clear communication, thus we will give you a dedicated project manager who will be your primary point of contact during the entire process.
How can safety on building sites be ensured?
Our number one concern is safety. To maintain a secure working environment, we follow strict safety processes, carry out routine inspections, outfit our workers with the proper safety equipment, and follow all safety laws.